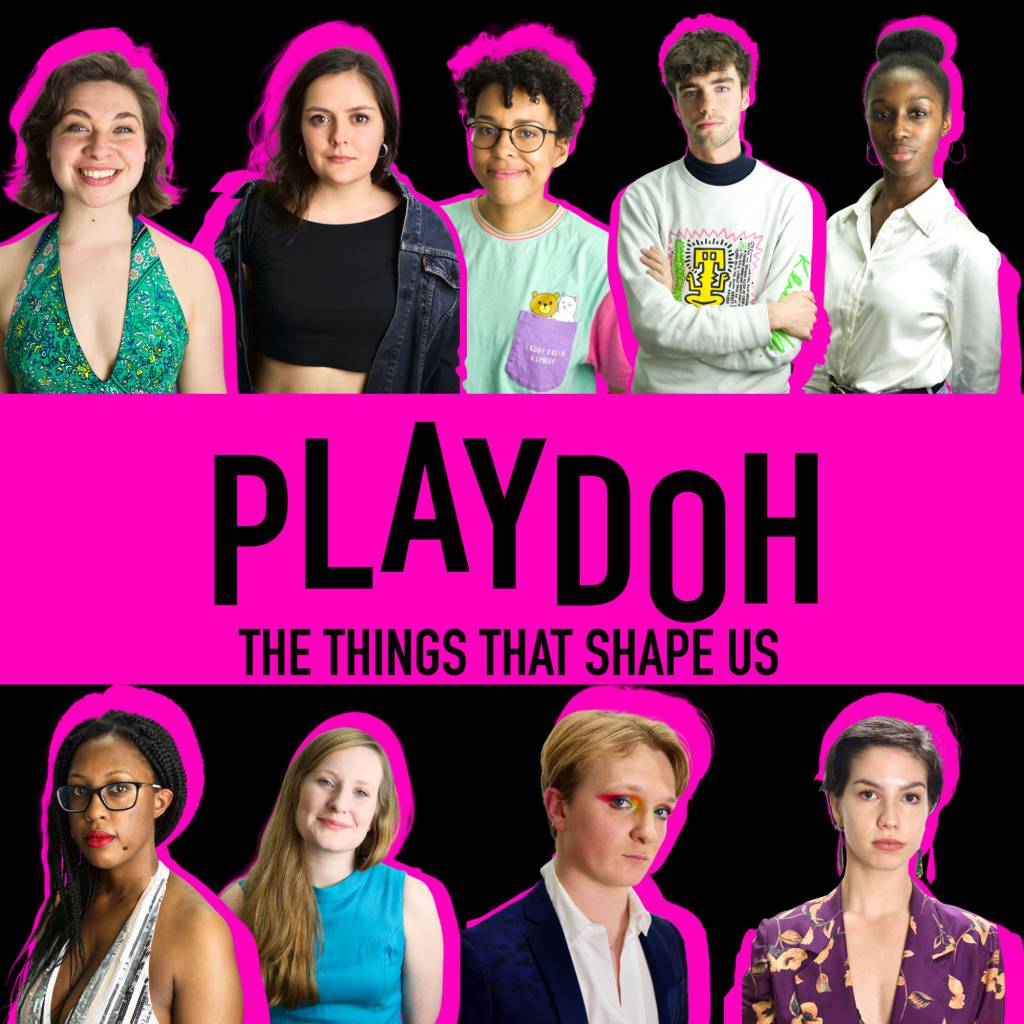 We are delighted to announce our Young Director's Festival, Playdoh, which will take place from 14th – 18th September 2021 LIVE at Southwark Playhouse and ONLINE.
In March 2020, just a month before the festival was scheduled, we were forced to move online and postpone indefinitely. Since that time, the directors have completed extensive online training, fundraised, workshopped their shows with emergency Arts Council Funding, and started planning for the return of the festival.
Join them for five days of storytelling and celebration. Each night will carry a different theme, showcasing directors' short plays with time for an informal Q&A in the bar afterward.
This year, the StoneCrabs Young Directors Training programme is being run in London and Isle of Wight. The Island cohort is responding to the theme of Islands That Shape Us in a digital format whilst the London cohort looks at The Things That Shape Us in a live format. Playdoh is a week-long Festival showcasing the talent of twelve brave and exciting new directors exploring the roots and identity of each director.
Across five nights, each director will present a short play that represents both the world they live in today and the Islands of things that have shaped them along the way. The Festival also includes plays by Sabrina Mahfouz, Silvia Gomez and Thomas Eccleshare, presenting an eclectic mix of productions that echo the values of the training programme – equality, diversity and creation.
By booking your festival tickets early, you can save 20%. This offer only applies to the first 50 tickets sold so you better be quick! Just enter the code EARLYBIRD at checkout to claim your discount.
14/09/21 – CONFINEMENT
8PM
Chef by Sabrina Mahfouz, directed by Vicky Olusanya
Cooking to heal the wounds of the soul.
9.10PM
Q&A session with directors and a very special guest (TBA)
15/09/21 – ROOTS
8PM
The Sky Five Minutes Before the Storm by Silvia Gomez, directed by Catharina Conte
A nurse and a patient receive a life-changing visit.
9.10PM
House by Somalia Seaton, directed by Jessica Mensah
House explores the essence of family, religion, sisterhood and truth.
16/09/21 – POLITICS
8PM
Heather by Thomas Eccleshare, directed by John Livesey
Fairy-tales cross into reality in a web of deceit and false-appearances
9.10PM
The Arsonists by Max Frisch, directed by Miranda Mackay
There's a stranger at the door. Can you smell smoke?
17/09/21 – LANGUAGE
8PM
Secret Thoughts by David Lodge, directed by Paloma Jacob-Duvernet
A personal game between opposites to solve the mystery of consciousness.
9.10PM
Lemons, Lemons, Lemons, Lemons, Lemons by Sam Steiner, directed by Robyn Horne
Lovers confront the altered value of language when words are scarce.
18/09/21 – IDENTITY
8PM
Tuesdays at Tesco's by Emanuel Darley, directed by Harry Hancock
One womxn's plight to live authentically, but at what cost?
9.10PM
With A Little Bit Of Luck by Sabrina Mahfouz, directed by Simonne Mason
It's 2001 and we are here because of UK Garage.
PLUS Digital work by Lucas Berry, Sam Lapham and Charis Segdwick
---
StoneCrabs Theatre is an artist led company keen to support the next generation of theatre makers. We want to empower young creatives who share our inclusive and socially engaged theatre practice within diverse communities. 
StoneCrabs' Young Directors is a prestigious annual training programme hosted by StoneCrabs Theatre. Alumni include the likes of Lynette Linton, Tristan Fynn-Aiduenu, Natasha Nixon and Katie-Ann McDonough.
We are grateful for the support of Arts Council England, Royal Victoria Hall Foundation, Unity Theatre Trust, Parsonage Trust and all the generous donations received from private individuals through our crowdfunding campaign.