"…chaos imbued with StoneCrabs' typically thrilling theatricality."
As we work towards mould-breaking theatre, challenging current aesthetics and form, it is important for us to hear how audiences are enjoying – or not enjoying – our work.
Breaking form often leads to polar opposite opinions; it can be a bit like marmite. We understand that, particularly as we can be playing with a particular style or technique in such a way that what we produce is completely out of the box.
Producing Utter Mess! provoked just a much joy as discussion; read on for what the audiences and critics have been telling us:
"This show is magical"

"We so love Utter Mess. Perfect combo of theatre, music, clowning, meta."

We found ourselves in many recommendation lists from the general public:
"It's hard to pick a favourite but The Hippie Shakes, Utter Mess, Let's Circus, Ania Magliano and House of Burlesque were absolute standouts. Shows I'd give the full five stars to and would want to watch again and again. Just a wonderful eclectic range of talent."
As well as industry colleagues: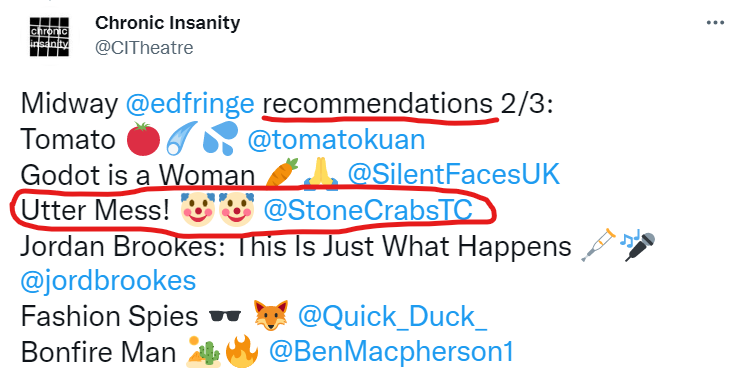 And reviewers like Fergus Morgan:

Feedback came in varied ways, audiences were particularly vocal on social media, for instance:
"What a captivating – and incredibly energetic show! – from amazing Franko and the StoneCrabs team. A very funny, sad and ultimately thought-provoking search for meaning and connection. Quite a journey with these incredibly talented performers."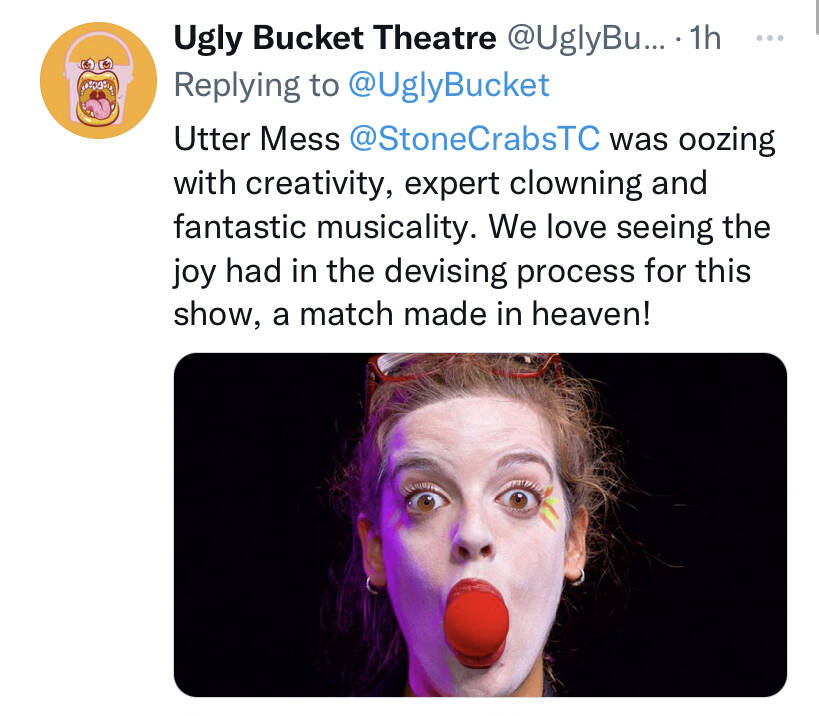 "This was brilliant! One of my fav's at Ventnor- good luck in Edinburgh."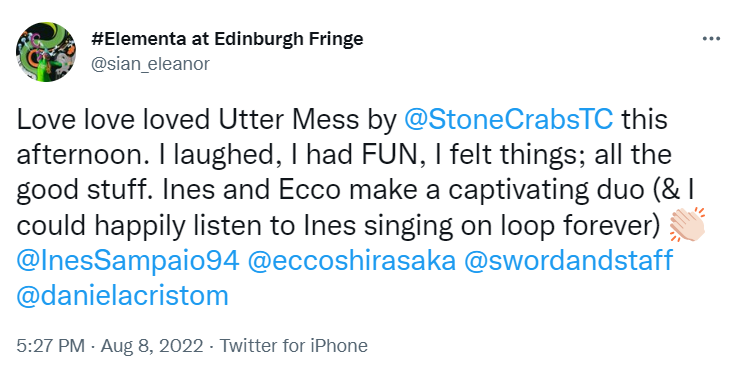 "What a show! It's funny, topical and makes you think!"
"Just seeing this incredible show by StoneCrabs Theatre today, before it goes to the Ed Fringe. Totally recommended!!!"
"Saw this tonight at Ventnor Fringe. Fresh and different :)"
"Loved this – saw it twice and each time I saw something different wish I lived closer to Edinburgh."

"A goofy, energetic but deeply precise showcase of expert clowning, drawing to a great extent from the chemistry and experiences of the two clowns (I think?) It was brilliant."

"It's an utter delight: funny, poignant, utterly bonkers in parts but I was gripped."
"Movement, twists, turns, strange sounds and beautiful music… in the museum of lost things."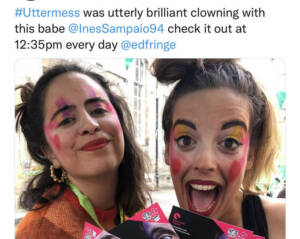 "Utter Mess! is a beautifully crafted, hilariously performed and thought-provoking clown show by the brilliant StoneCrabs and Ines Sampaio. Go and see it!!!"

"Love love loved Utter Mess by StoneCrabs this afternoon. I laughed, I had FUN, I felt things; all the good stuff. Ines and Ecco make a captivating duo (and I could happily listen to Ines singing on loop forever)."
"Awesome, poignant, bizarre, beautiful show that will surprise you"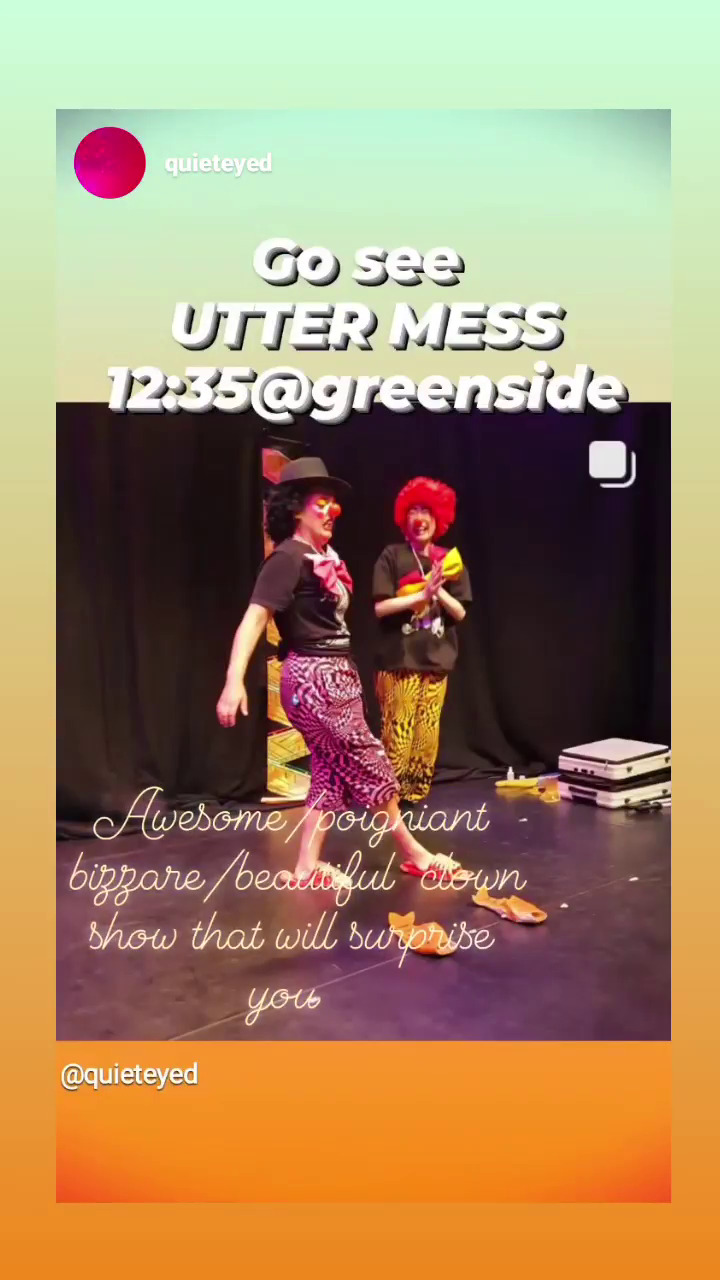 We were thrilled to have bagged a cheeky 5 stars from Butterwort Art: "With lightness and bliss, it explores the possibilities of the stage, as well as those of human relations."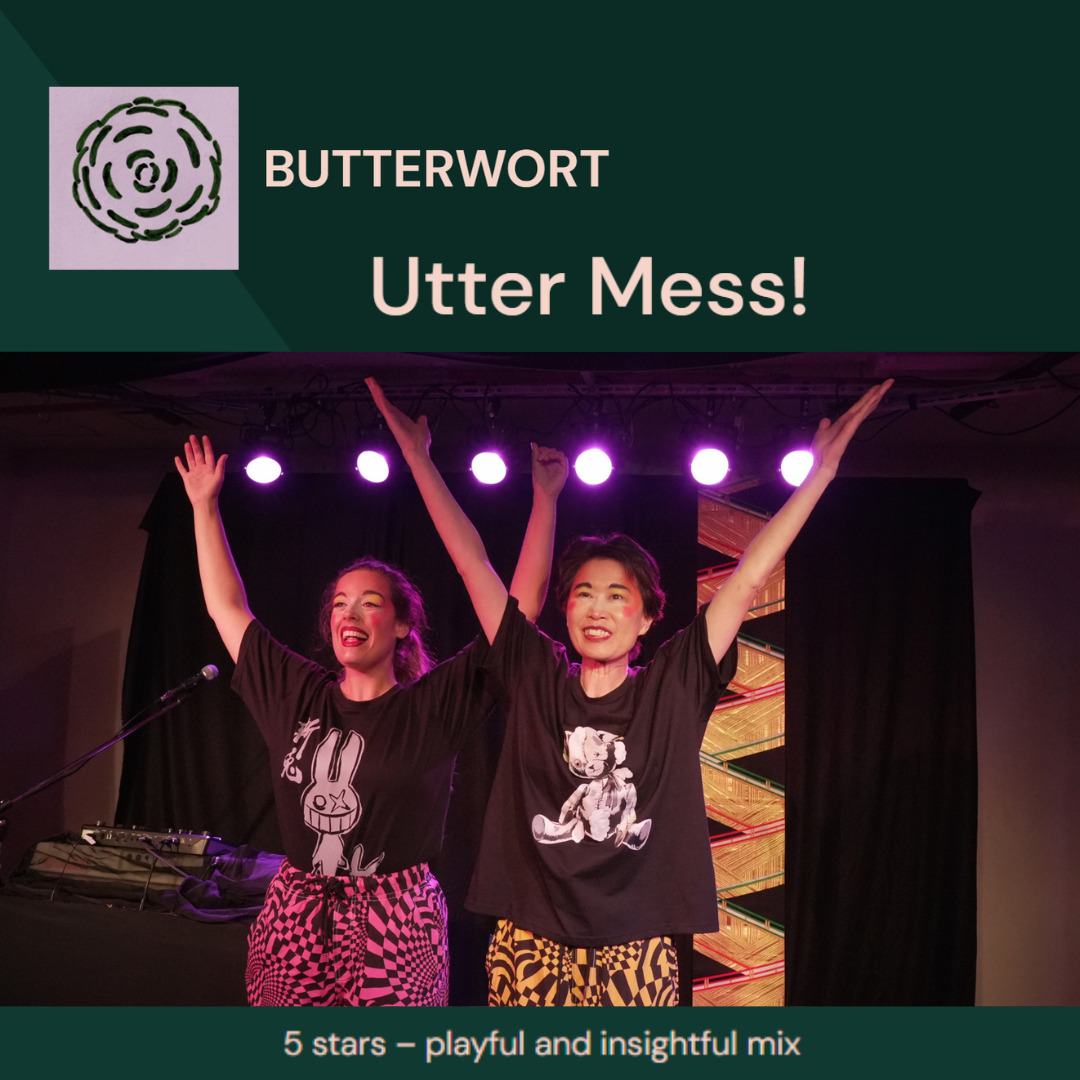 "a story delicate as a spider's web"
And what a lovely write up from Fringe Biscuit: "Fragments of characters, games, sketches, quirky props, music and interactivity intermingle, forming a story delicate as a spider's web. Swinging between loud absurdism and tiny, authentic moments, StoneCrabs takes you on a thought-provoking search for connection."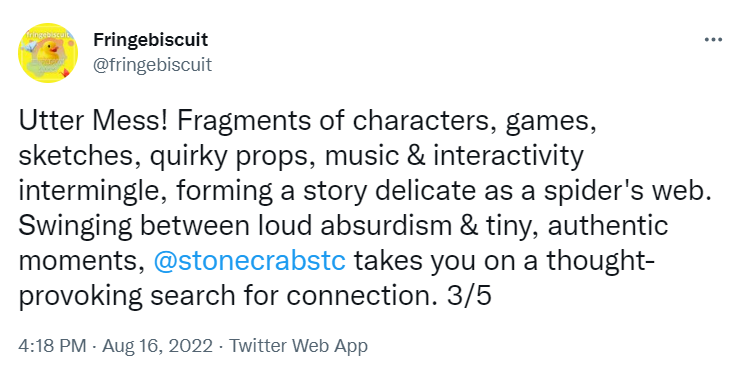 "StoneCrabs, as ever, producing vibrant new work."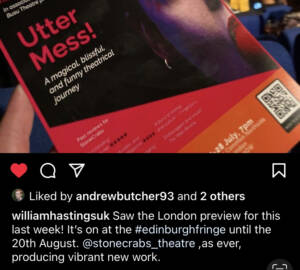 From Island Echo: "'Utter Mess', yes – but also an utter, utter delight."
From Edinburgh Reporter: "Funny and superbly performed."
"…chaos imbued with StoneCrabs' typically thrilling theatricality."

From Edinburgh Guide: "Connection is at the heart of this creative production, both in its message and its relationship with the audience."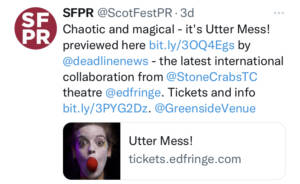 Feeling the love
In short, we couldn't be more pleased with the feedback we received and truly felt the love throughout, in London, on Isle of Wight and – joining another 3000+ shows as our last minute addition to the calendar – at the Edinburgh Festival Fringe.
We know there are always improvements that can be made to a show. If Utter Mess! has any future life, we shall continue developing the work, embracing all feedback we received and taking it to another level.
Thank you for all the love.