In 2006, we launched our Young Directors Training Programme. Our 2006 young directors are Bola Agbaje, Abdul Ali, Gael Le Cornec, Tamsin Curno, Richard Cussands, Simon Magnus and Paula Siu. Together they produced the first StoneCrabs Young Directors Festival at the Brockley Jack Theatre.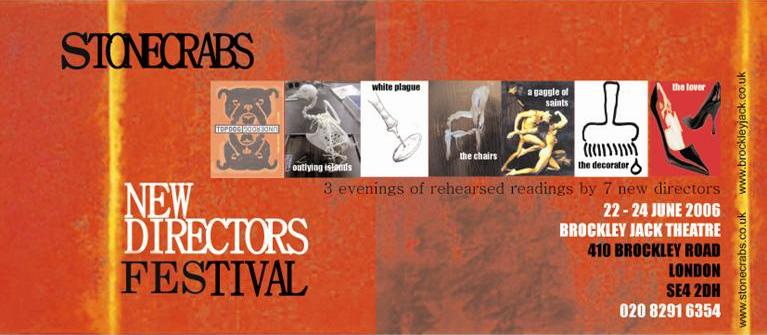 Bola Agbaje directed Top dog/Under dog by Susan-Lori Parks
Abdul Ali directed A Gaggle of Saints by Neil Labute
Gael Le Cornec directed Outlying Islands by David Greig
Tamsin Curno directed The Lover by Harold Pinter
Richard Cussands directed The Decorator by Donald Churchill
Simon Magnus directed White Plague by Karel Capek
Paula Siu directed The Chairs by Eugene Ionesco
---
The project was supported by Lewisham Arts and Local Network Fund.