---
StoneCrabs Theatre and Bots and Barrals in association with Park Theatre presents the UK Première of Skin in Flames by Guillem Clua directed by Franko Figueiredo & Silvia Ayguade
---
A schoolgirl. A civil war. An award-winning photograph.

Cast Almiro Andrade David Lee-Jones Laya Marti and Bea Segura
Set Designer Valerie Kaneko-Lucas Lighting Designer Derek Carlyle Sound Designer Dinah Mullen
Production Management Ricky McFadden
Skin in Flames is an award-winning po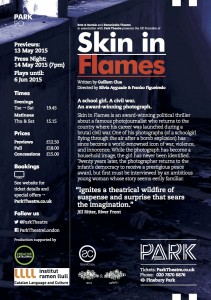 litical thriller about a famous photojournalist who returns to the country where his career was launched during a brutal civil war. One of his photographs (of a schoolgirl flying through the air after a bomb explosion) has since become a world-renowned icon of war, violence, and innocence. While the photograph has become a household image, the girl has never been identified. Twenty years later, the photographer returns to the infant's democracy to receive a prestigious peace award, but first must be interviewed by an ambitious young woman whose story seems eerily familiar.
This intense Spanish drama by Guillem Clua ignites a theatrical wildfire of suspense and surprise that sears the imagination – Jill Ritter, River Front Times