Out On An Island – An Untold Heritage
Click here for a fuller history of the project, oral histories, pop up cafe and LGBTQ+ events on the Island,  please visit the Out On An Island page.
Out On An Island – An Untold Heritage exhibition opened the door on the Isle of Wight's lively LGBTQ+ community. It was first exhibited at Quay Arts, the Island's leading arts venue, situated in a charming converted 19th century brewery and warehouse in June – July 2022; it toured 6 Isle of Wight Libraries and was then hosted by Carisbrooke Castle Museum for 6 month from February – July 2022.

The exhibition is currently available for touring, for more information contact us on outonanisland@stonecrabs.co.uk
joyful, moving and heart wrenching personal stories and memories
Discover the joyful, moving and heart wrenching personal stories and memories of LGBTQ+ Islanders through oral history recordings, paired with powerful portraits by Island photographer Jon Habens. Listen to the teacher who worked in the times of Section 28 and learn about the Isle of Wight resident who coined the term "gender transient". Hear about the Gay and Lesbian Switchboard which provided support and information to locals and visitors. You may be surprised to learn that there was a lively gay scene on the Isle of Wight in the 80's and 90's. Learn about key LGBTQ+ meeting places such as Bar 53, the Crab Shack and Patsy's.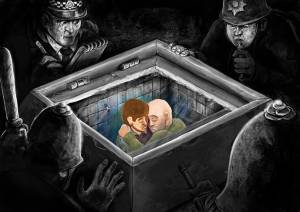 Cottage by Sydney Cardew
Stunning and expressive artwork
Experience the stunning and expressive artwork from artists Karl Stedman and Sydney Cardew, created in response to the histories we've uncovered. Learn about Virginia Woolf's connection to the Island and why her play Freshwater is set here, as well as how a gang of queer women helped save historic sites for the National Trust.
Award winning documentary film
The exhibition is accompanied by a documentary film highlighting inspirational LGBTQ+ people and places, all with an Isle of Wight connection. Meet feisty lesbian Joe Carstairs – the "fastest woman on the water" – who raced in the Solent in the 1920's. Learn about architects and partners Paget and Seely, who made their home at Mottistone Manor.
The documentary film went to win the recognition Global Accolade Short Film award in 2022.
Out On An Island – An Untold Heritage is funded by the National Lottery Heritage Fund and the result of two years' work researching and recording local oral histories by a team of dedicated volunteers. StoneCrabs is supported by the Arts Council of England.