Yellow Earth Theatre, StoneCrabs and One Two Works
Winds of Change/Ashita No Kaze Vol 2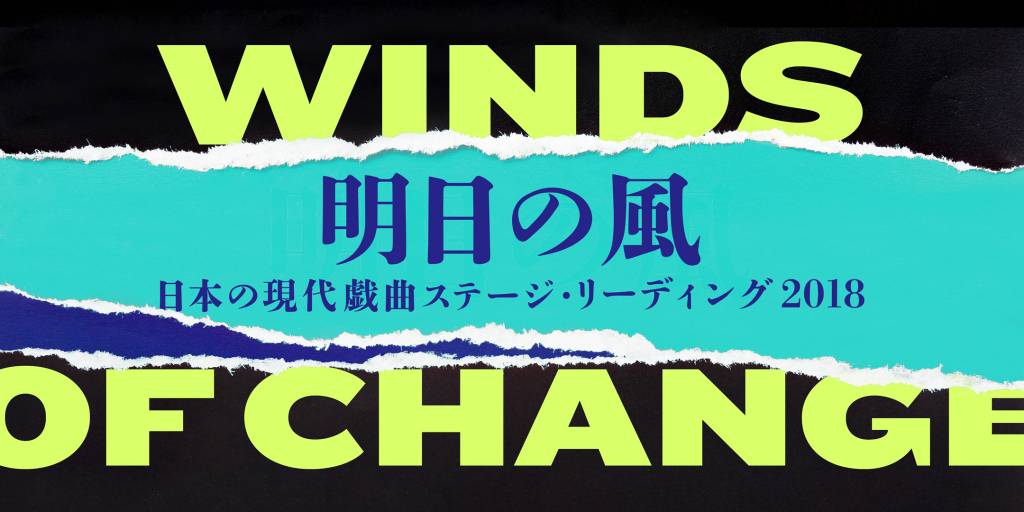 Japanese Contemporary Plays and Playwrights Festival
Ashita No Kaze/Winds of Change volume 2 is an exciting Japanese contemporary plays and playwrights month-long festival coming to the UK this September, The festival presents plays by some of Japan's most celebrated playwrights, The Festival, takes place in two Series with script in hand performance in English, Meet the Writer events and a 'Lost in Translation' seminar.
All the script in hand performances at Marylebone Theatre, 7 Garbutt Place, London,W1U 4RY
Series 1 in partnership with Japan Foundation and Regent's University London
Fri 7 Sep 7pm
Fallout
by Akihito Nakatsuru, translated by Jeremy Kuhles, directed by Franko Figueiredo
Coming tothe UK for the first time, Fallout is a time bomb ticking thriller that spans over two generations in the aftermath of Fukushima Nuclear power plant disaster.
On March 11, 2011, a magnitude-9 earthquake shook North Eastern Japan, unleashing a savage tsunami. It caused a cooling system failure at the Fukushima Nuclear Power Plant, resulting in a massive nuclear fallout. Shunsuke Komoto, a broadcasting company employee turned freelance documentarist finds himself caught between the political and the personal with devastating consequences.
Fallout will be presented in English as a Script in hand performance
GET TICKETS
Saturday 8 September │Meet the Writer & Translator│3pm
Akihito Nakatsuru is a founding member of the theatre company TRASHMASTERS, formed with actors from the TOMM Actors Studio. Nakatsuru's latest pieces include numerous weighty human dramas, dealing with the problems of contemporary Japanese society. He goes to great lengths to keep his works entertaining for the audience, going so far as to change even the floorboards between scenes and lengthening performances beyond normally accepted limits.
Meet playwright Akihito Nakatsuru  in conversation with translator Jeremy Kuhles as they explore their work together and the challenges of cross cultural translation.
This free event will take place at the FreeWord Centre, 60 Farringdon Road, London EC1R 3GA.
Book here
Friday, 14 Sep, 7pm
+51 Aviación, San Borja
by Yudai Kamisato, translated by Aya Ogawa, directed by Kumiko Mendl
In an abandoned building in Tokyo, a disillusioned young man is approached by the apparition of Seki Sano, the famous Japanese theatre director exiled to Mexico before the war andconsidered the father of Mexican theatre. Together the two men embark on a journey into the young man's ancestral past. Weaving history, memory and autobiography, +51 Aviación creates a kaleidoscopic canvas of dream and contemplation and ultimately the search for one's identity, purpose and place in the world.
Coming to the UK for the first time, +51 Aviación, San Borja by the new rising star of Japanese theatre, Yudai Kamisato, will be presented in English as a Script in hand performance
GET TICKETS
Sat 15 Sep 3pm
Yudai Kamisato – Writer & Translator Talk at Free Word Centre.
Born in Lima, Peru in 1982, based in Tokyo and Kawasaki.
In 2006, he became the youngest person ever to win the first prize in the TOGA Directors Competition for his staging of "Desire Caught by the Tail," a farcical play with a script by Pablo Picasso, and he won the prize for the Kishida Kunio Drama Award in 2018 with "The Story of Descending the Long Slopes of Valparaíso".
His plays have been invited by several international festivals such as Festival Tokyo, Sydney Festival, Kunstenfestivaldesarts in Brussels and Festival d'Automne à Paris.
Meet playwright Yudai Kamisato in conversation with translator Aya Ogawa as they explore their work together and the challenges of cross cultural translation
The free event will take place at the FreeWord Centre, 60 Farringdon Road, London EC1R 3GA.
Book here
Series 2 in partnership with Japan House , Regent's University London and SOAS
Fri 21 Sep 7pm
On Air
by Ai Nagai, translated by Nozomi Abe, directed by Kwong Loke
"Events set in motion a power struggle at a major Japanese TV station. An important and highly sensitive piece of 'investigative journalism' has been halted just hours before it's due to be broadcast, Chief editor, anchor, newscaster, director and the Executive Board are summoned to 'test the air' against a background of political intrusion as neutrality and opinion, fabrication and truth are brought into question with tragi-comic results.
GET TICKETS
Sat 22 Sep 2pm
'Lost in Translation' seminar  at  School of Oriental & African Studies (SOAS) 
Celebrated playwright Ai Nagai will give a short illustrated talk on her work followed by a practical workshop with translator Dr Nozomi Abe. The event will finish with a panel discussion and Q&A on the challenges of translating plays for theatre.
Panellists: Susan Momoko Hingley (actor and translator ), Trine Garrett( director and translator from Foreign Affairs) and Nozomi Abe (translator)
GET TICKETS
Thurs 27 Sep 7 pm
Dilemma, Dilemma
by Toshinobu Kojo, translated by Sayuri Suzuki, directed by Anthony Lau
A college student, a rice wholesaler's wife, and the deputy chief inspector of the Nuclear Security Inspection Office are all being interviewed by government officials. How can one be virtuous when actions are 'unavoidable' and 'justice' so subjective?
Dilemma, Dilemma touches on fundamental issues of human behaviour, morals and 'doing the right thing' when faced with impossible challenges
GET TICKETS
Fri 28 Sep 6.30 pm
Talk by Japanese Playwright Kojo Toshinobu
'Beyond Words' Talk + in conversation with translator Suzuki Sayuri
Hall, Japan House – admission free, booking essential
Renowned Japanese playwright Kojo Toshinobu gives an illustrated talk on his work. He is joined in conversation by longstanding translator Suzuki Sayuri to discuss the invisible meanings attached to words and how to translate those cultural nuances. The talk will be moderated by theatre scholar Dr Valerie Kaneko-Lucas (Regent's University London).
GET TICKETS