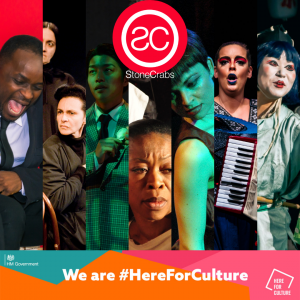 "A powerful 75 minutes of theatre, which couldn't have more contemporary relevance."
The Stage on 'Basic'.
StoneCrabs Theatre is seeking dynamic and committed individuals to join our Board. If you are passionate about diverse, international, political theatre and would enjoy supporting the next generation of theatre-makers, please have a look below:
The Company
A socially curious theatre company, StoneCrabs shines a light on hidden stories and places under-represented voices centre stage. For almost two decades we have been producing form-breaking, bold and socially engaged theatre across the UK and internationally. Since 2006 we have been launching the successful creative lives of many young artists from diverse backgrounds through our unique flagship training programme StoneCrabs Young Directors.
In 2016 we relocated our main operations to the Isle of Wight and started to build a creative dialogue between the Island, London, the UK and the world. We have grown key partnerships, developed new audiences and have become a company known for presenting contemporary, diverse and pertinent work.
2020 has been the most challenging year imaginable for the theatre industry. With no live audiences to play to, we have reimagined ourselves and successfully develop new ways of reaching people, continued our community engagement and training programmes and progressed with our national and international collaborative investigations. In recognition of the important part StoneCrabs plays in the arts sector, we have recently secured funding from the government's Culture Recovery Fund so we can weather these difficult times and ensure that #wearehere for Culture for years to come.
For more information about us, visit our website
To read about our Culture Recovery Fund grant, click here
In 2022 we will be celebrating our 20th anniversary. In preparation for this landmark date, and to make sure we are in good shape to take on whatever the next few years throws at us, the company is developing a new business plan. We have recently appointed a new Executive Director and are now looking to strengthen our Board with two new Trustees who share our belief in the transformative power of the arts.
About the roles
We are looking for Trustees who can offer one or more of the following skills
Digital Strategy: In common with many theatre companies we have switched our activity online this year, and can see huge opportunities in developing this side of our work. We would like to appoint a Trustee who has experience of developing digital strategy, preferably in the creative industries, who can help us navigate the many options offered by new technologies.
Legal Expertise: We are looking to appoint a Trustee who is qualified to identify and manage areas of legal risk, support with risk management in relation to legal compliance, and provide support and advice on legal issues. This role is to replace one of our long-standing Trustees who recently had to step down from the Board due to ill-health.
Business development for an arts organisation: StoneCrabs is a small company operating with limited resources in an industry with multiple challenges. We would like to appoint a Trustee with experience of leading and developing an organisation working in the creative industries, who can offer us their insight and expertise.
About the Board and How to Apply
Ordinary Board meetings are held quarterly and an AGM is held once a year: this year meetings have been held remotely via Zoom. Meetings are normally held on Saturdays.  Appointment to the Board would initially be for a term of three years. Please note that this is a voluntary role, we do not pay Trustees for their work with the company. Travel expenses to Board meetings can be provided if required.
We are proud to be a diverse organisation and welcome applications from people from all ages, backgrounds and from anywhere in the UK.  Experience in the arts would be an advantage in these roles but is not essential. It is not necessary to have had previous experience of sitting on a Board.
If you would like to apply for one of these roles, please send a CV with a covering letter setting out why you would like to work with StoneCrabs and the experience you could bring to our Board for our recruitment team: recruitment@stonecrabs.co.uk. Closing date: 12pm, 23rd November 2020.
For more information and enquiries, please, contact us at recruitment@stonecrabs.co.uk.