2021… it was a messy start, right?
You've probably seen this meme going around:

However humorous, it highlights the fact that there's a lot of uncertainty and anxiety out there right now. We want you to know that you're not alone; we feel it too and we want to help.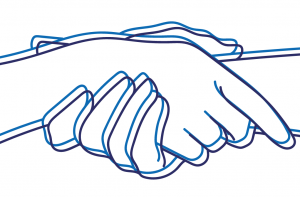 As we settle into 2021, we are pleased to share that we have opened up Artistic Surgeries for 2021. Helping to develop and nurture the future of theatre is one of StoneCrabs' main values. If you are a freelance theatre artist or creative seeking advice or support, get in touch. We'll do our best to help you as much as we can.
So, what's coming up in 2021?
A silver lining for us is that we finally get to share some exciting projects with you in 2021 – hopefully in a live format.
This Spring, we intend to launch the previously postponed 2020 Young Directors' Festival Playdoh, reimagined for a socially distanced world. Playdoh will bring you a selection of plays – from the classic to the surreal – which explore the different possibilities of life and reflect on the things that shape us. We are excited for our Young Directors to showcase their skills, not just as directors but as emerging leaders in our theatre industry.
This Summer, we aim to launch Out On An Island's Untold Heritage exhibition, which will bring to life the rich hidden history of the LGBTQ+ community on the Isle of Wight. We'll be premiering Our Stories Matter, a documentary film that aims to bring to life the stories of notable LGBTQ+ people from the Island's past.
We hope that Summer will also see Heights of Divine Apathy brought to audiences in a live format. The project brings together Japanese and British artists to ask how we can gain a deeper sense of belonging and connection. Look forward to themes of isolation, apathy and technology addressed via a mix of theatre, music and clowning!
Autumn will see the publication of a book based on 0ver two years of research into the LGBTQ+ history of the Isle of Wight by Out On An Island. The book will feature excerpts from oral history interviews conducted by the project, as well as research and memorabilia. It will investigate just what it means to be out on an island, along with how the LGBTQ+ community on the Isle of Wight has been impacted by both local and national history.
Help us grow and
 

develop

With the new year comes new changes. However slow those changes may be, StoneCrabs plans to continue looking at ways to improve our output. We would love to hear from you on how we can improve our communications. Want more images in the newsletter? Shareable links for articles? More regular updates? Would you like to see our Tuesday Tips back? How about our Theatre Dialogues sessions? If you have any ideas or thoughts, please click here to send them our way and help us continue to grow and develop. Thank you for being part of the journey.
Despite the messy start, we hope to make 2021 a brighter and better year than the one that came before it.
---
A Look Back At 2020
At the end of 2020, we sent out a newsletter which looked back at the unusual and challenging year that was 2020. As we approach our Annual General Meeting at the end of this month, we wanted to share that look back with you again, for those who may have missed it.
Not a total write off…
2020 could easily have been a total write off. However, the StoneCrabs team concentrated all our energy on keeping our projects going as much as we could, as well as planning for the future. Despite the obstacles, we delivered some fantastic projects, adapted to meet our new challenges. So instead of throwing the year away entirely, we decided we would celebrate it by taking a look back at everything we managed to create in 2020.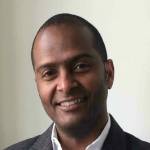 JANUARY
We kick-started 2020 with the appointment of a new Executive Director, Fabio Santos. An independent arts consultant since 2014, Fabio was awarded an MBE in 2016 for his contributions to the arts.
FEBRUARY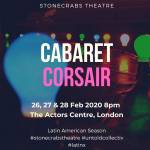 Our LGBTQ+ oral history project Out On an Island (OOAI) had an amazing start to the year, hosting a talk with human rights activist Peter Tatchell at Quay Arts.
That same month, we performed three work in progress shows of Cabaret Corsair, a shared experience in a cabaret setting following three Latin American characters on their adventures.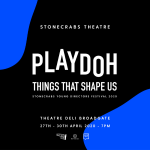 MARCH
2020 threw many obstacles at the year's cohort of Young Directors, which they met with determination and creativity. When the pandemic hit, our Young Directors Playdoh launch party and Festival had to be put on hold. Undeterred, they continued workshopping, recruiting and rehearsing virtually.
APRIL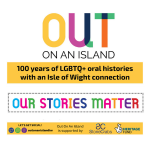 OOAI put out an online call for stories and memorabilia connected to LGBTQ+ history on the Isle of Wight. We received a tremendous response, which will be showcased at our Untold Heritage exhibition and an upcoming book.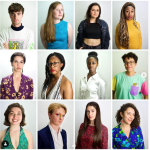 MAY
In one of the hardest periods of 2020, the Young Directors shared their reflections on the theme of "Things that Shape Us".
At a moment where we were questioning how StoneCrabs could survive the unique obstacles of 2020, our answer arrived in the form of a grant from Arts Council England's Emergency Response Fund.
JUNE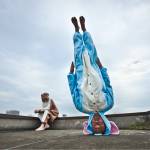 Our research and development project Heights of Divine Apathy – co-produced with our Japanese partners, Busu Theatre – continued through a series of online workshops.
Meanwhile, OOAI organised an online Queer Quiz to keep spirits lifted!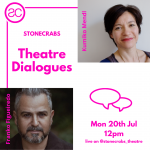 JULY
We started reflecting on our sector and decided that we needed space for open dialogue among freelance artists. We launched our first series of Theatre Dialogues, a collection of insightful conversations with peers in the theatre and creative sectors. This first edition was run by our Young Directors, who in the same month began a new series of online dramaturgy sessions.
AUGUST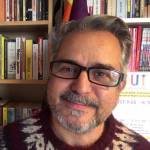 Having received messages from young artists asking for 'theatre tips', we decided to launch Tuesday Tips!
We were also commissioned to deliver a workshop for Cut the Cord. We covered basic aspects of the storytelling process when creating stage adaptations and new shows, and spoke about our meta-theatrical legislative theatre approach to creativity.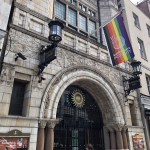 SEPTEMBER
Due to the ongoing pandemic, our Young Directors cast over 20 actors to help them explore selected texts in a series of online rehearsal sessions. This was part of a successful pilot scheme to deliver an online version of the Young Directors programme. In other news, we produced a workshop for Intercultural Roots and OOAI visited the Lesbian and Gay Newsmedia Archive (LAGNA) in London.
OCTOBER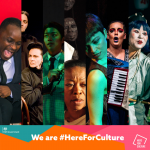 In October, we were delighted to announce that we had been successful in our application to the Culture Recovery Fund. This fund ensures that we can continue engaging with diverse creators and communities for years to come.
We had the privilege to talk with drama students from Isle of Wight College, while OOAI got all dressed up for a spooky Halloween Zoom gathering!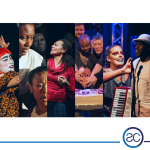 NOVEMBER
Last year pushed us to reassess our work and StoneCrabs as a company. We held a series of workshops with associates, Trustees, Young Directors alumni, supporters and our audience. The workshops were led by the amazing Claire Hodgson and were an incredible journey through StoneCrabs' history. Over at OOAI, volunteers attended the 18th Annual LGBTQ+ History and Archives Conference.
DECEMBER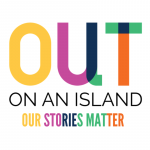 Our Stories Matter is a documentary film commissioned for our Out On An Island project in partnership with Prettyr Ltd, with socially distanced filming taking place on the Isle of Wight. After a competitive online casting process, a team of ten talented actors were chosen to bring the script to life. We were fortunate to be able to work with some incredible local talent and we can't wait to share the film with you.